Ice Mountain Splash
Ahoy Mateys! thrill to a 60-foot drop into refreshing water.
Formerly called "Yankee Clipper"
Located in Yankee Harbor.
Logger's Run
Timber! Splash down on this log flume ride.
Located in Yukon Territory.
Roaring Rapids
Real white-water rafting-you're bound to get soaked.
Located in Orleans Place.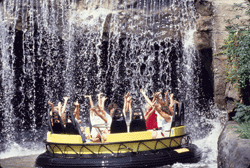 Splashwater Falls
A water-bound excursion that sends riders plunging over
a 50-foot waterfall into a tidal-wave splash.
Located in County Fair.